Katy Abrams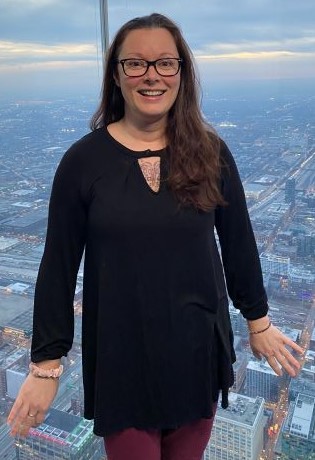 "Boone is a great place!" Katy Abrams said. "It's vibrant, and economically diverse, and faces a unique set of challenges. I want students to see Boone as more than just a small mountain town, and I want them to see themselves as an integral, if temporary, part of it."
Abrams is a lecturer in Rhetoric and Composition in the Department of English. Abrams is also a Managing Editor at Cold Mountain Review and a Business Manager for the Visiting Writers Series. Abrams received her M.F.A. in Creative Writing-Poetry from Goddard College in 2014 and her B.A. in English with a Creative Writing Concentration from Appalachian State University in 2007. Some fun facts: Abrams is originally from a small college town on the Mississippi River, is currently trying to learn American sign language, and has eleven tattoos.
"I think service is an incredible opportunity for college students to gain a few valuable insights" Abrams said. "One, an insight into this place they're going to call home for a few years, and what this community really needs and how it functions. Second, I think service gives an insight into themselves, into the things that feel important to them, or the things they are concerned about, and what they're willing and able to do to affect change in those areas. And third, I think service makes global connections for students in ways that, because they're more tangible and experiential than the classroom, can be incredibly eye opening and impacting. Service gives students a chance to step outside themselves for a while, and not only witness, but actively engage in the lives of people they probably wouldn't otherwise encounter."
Abrams teaches several sections of RC 1000. As part of the service learning course, students volunteer in groups for 12 hours at the Hospitality House. Groups work on varying tasks including working in the garden and with the chickens, assisting in the food pantry and kitchen, and helping with the programs Hospitality House offers, like WeCan or RISE. Students then write about their experiences from Hospitality House in the form of brochures, blog posts, fliers, and web content. Most recently, students in the Fall of 2019 made a podcast.
"I incorporate service learning in part because I was involved in service when I was in college, and while it wasn't through the school, it did have an impact on my education," Abrams said. "Those experiences helped me connect with like minded students, and develop my personal and professional interests. I think creating a service learning course is so rewarding because it gives me the opportunity to offer something to the community on a much larger scale than just the help I can give alone. I've always had a strong commitment to Hospitality House, but there's only so much I can do for them as one person. And service learning courses naturally create a deeper level of connection with and between students, because we have to work so closely together, communicate so frequently, and have honest conversations about things like difficult group dynamics, interacting with marginalized communities, and the realities of poverty and homelessness. I really enjoy the way this course opens students up to those conversations, and to new awareness."
Abrams hopes that students will gain a sense of connection to the community and a willingness to participate in the community through her class.