Christina M. May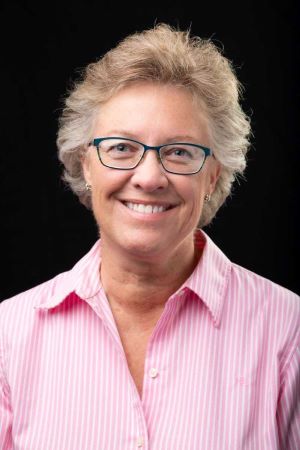 Rev. Dr. Christina M. May teaches designated service learning courses titled: Nonprofit Management: Links to Governance and Principles of Fundraising. May is a retired Naval Officer and has traveled to over 35 countries with the aspiration to travel to many more. May has a Master of Divinity degree in interfaith community building, meaning that May has studied how to facilitate understanding, cooperation, and collaboration between people of different faiths.
"Service learning classes are significant in that they educate and nurture the whole student" May said. "There is an important trend in higher education that emphasizes cultivating more than just the student intellect. We want to graduate individuals who have not only achieved a degree of knowledge in their chosen discipline but who have also become more mindful, well-rounded, globally conscious, self-aware young people who are living on purpose. Service learning classes expand students' perceptions of the 'other' and allow them to develop creativity, innovation, compassion, and empathy. These classes also provide opportunities for students to be blessed by the many intangible benefits that come from public service, such as learning to work on a team, learning about various ways of being, learning about sacrifice, and learning about commitment. In other words, service learning classes strengthen not only the mind, but also the heart and soul."
In May's service learning courses, students are given semester-long service learning projects that are mutually beneficial to the organization they are partnered with and the students. In Nonprofit Management, students are volunteering for and conducting policy research with the Blue Ridge Conservancy and the Hospitality House. In Principles of Fundraising, several different nonprofits are chosen each semester to work with students on fundraising campaigns. Past nonprofit partners include the Women's Fund of the Blue Ridge, Watauga Habitat for Humanity, Watauga Arts Council, Blowing Rock Art and History Museum, High Country Care Givers, and the Hunger & Health Coalition.
"I choose to include service learning because nonprofit management is best understood in real-world settings," May said. "Nonprofit management requires a comprehension of the nuances of working with the public, for the public good, with boards of directors, and with volunteers. It is also important for students to get a feel for the warm glow effect that results from working with nonprofits. This is a key motivation for civic engagement and one nonprofit leaders need to become familiar with in order to capitalize on it."
May hopes that students will gain an appreciation of the needs of the community through service learning. "I hope they will learn from the outstanding nonprofit leaders in the High Country and get a sense for how nonprofit management differs from for-profit management," May said. "Lastly, I hope it will introduce them to the importance and joys of civic engagement, which, studies suggest, is good for human health and well-being over our lifetimes."