Clinton Global Initiative University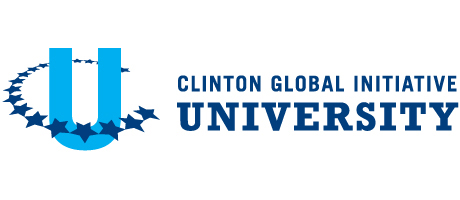 Do you have an original idea to solve some of the world's most challenging problems?
Appalachian State University recently joined the Clinton Global Initiative University (CGIU) in order to provide possible support to fund your ideas and to connect students with others who are interested in addressing the five vital focus areas of Education, Environment & Climate Change, Peace & Human Rights, Poverty Alleviation, and Public Health. The Clinton Global Initiative University is a growing network of young leaders who are developing innovative solutions to some of the world's most pressing challenges. Apply here.
Who can participate?
Individual ASU students or groups no larger than three students are invited to submit idea proposals.
What will I receive if I am selected?
The typical financial support for idea implementation is $2,000-$3,000 but ASU is willing to consider proposals for greater or lesser amounts. Additionally, individuals or groups whose ideas are selected will be supported to attend the annual meeting in the fall of 2018, pending funding. Applicants should be prepared to name a faculty/staff sponsor of your project who will serve as an advisor.
Participation Requirements
In order to attend the CGI U meeting, students are required to develop a Commitment to Action: a new, specific, and measurable plan that addresses an issue on their campus, in their local community, or around the world. Since its inaugural meeting in 2008, CGI U has brought together more than 6,500 students from over 875 schools and 145 countries to make Commitments to Action in CGI U's five focus areas: Education, Environment and Climate Change, Peace and Human Rights, Poverty Alleviation, and Public Health.
Upcoming Deadlines
The final deadline for applications is Friday, October 4th at 11:59PM. Applicants showing promise will be invited to interview with ASU CGIU committee representatives.
Upcoming Information Session
If you have questions about CGIU, we encourage you to attend an information session on Thursday, September 19 at 1:00PM in the Snake Mountain room 136 of the Plemmons Union.
Review last year's successfully awarded projects below to help you get started with a few ideas of your own:
The E-Bike Feasibility Analysis allowed for a team of students to purchase two e-bikes that were studied under Boone's unique physical environment to determine the viability of this alternative mode of transportation.
Real Talk was submitted by an individual major in Health Promotion who partnered with the Western Youth Network to work with middle-school age girls to discuss issues of feminine hygiene and other issues germane to that age group.
Cultivating Leadership and Achievement was proposed by a team of two Wilson Scholars who sought to bring under-served students from Charlotte or other major urban areas in North Carolina to expose such students to the environment through trail hiking and mentorship.
Contacts
Other questions can be sent to Brian MacHarg at machargbd@appstate.edu or by calling 828-262-8211.